LIFE OF COLONEL MICHAEL EKIMOV
Michael Ekimov (1865-1941?) belonged to westernized middle class of Old Sanct-Peterbourg of Gottorp-Romanovs' era. His father Basily Ekimov, an Orthodox Russian, was a successful official of the Ministry of State Possessions. His mother, née Anna Schenken, was in Germany born Lutheran German. Their family was big: 5 sons and 4 daughters. The father looked for a secure career of his sons. Therefore he placed them in various cavalry schools. One of his daughters, Maria, married Count Eugen Visconti, an offspring of known family of architects of Sanct-Peterbourg.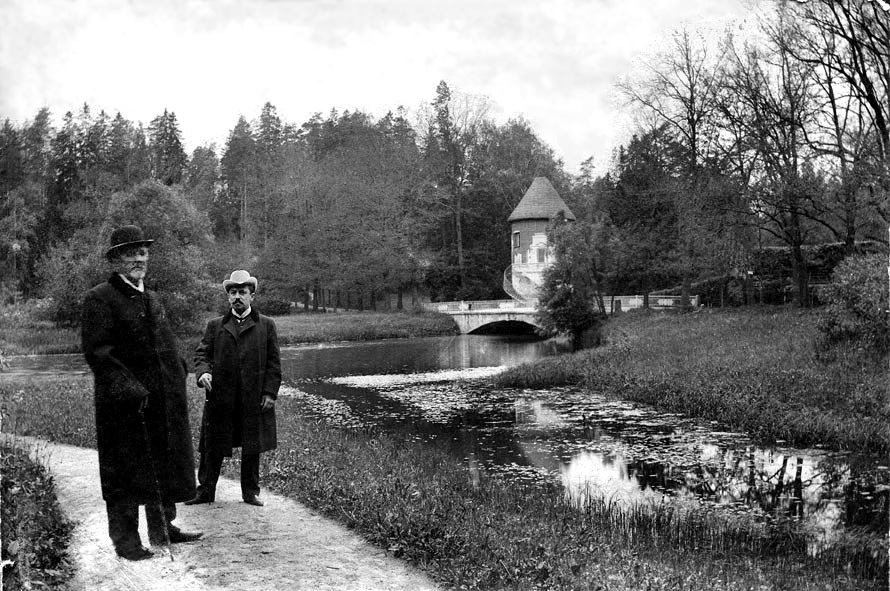 Basily Ekimov with his son-in-law Eugen Visconti (husband of Michael's sister Maria) in Paulovsk (Paullust).
Paulovsk (Paullust, orig. German name by Emperor Paul I) was a place of creative work of David Visconti, an architect and author of the Visconti's Bridge in the Park, as well as of his brother Carlo Domenico Visconti, the author of Mausoleum there. David was great-grandfather of Eugen Visconti, Vice-Director of the Department of Common Affairs of the Ministry of Foreign Affairwars in his prime.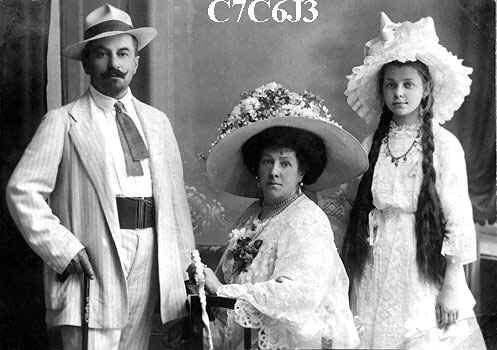 Eugen on peak of his career with his wife Maria and adopted daughter Sanda, 1911.
Michael went a successful way from cornet in 1888 to colonel in 1915 (still a lieutenant-colonel on January 1, 1915, having served first ca. 29 years at least till September 1, 1913 in the 13/5th Kargopol dragoon regiment. Thereafter he served in the 13th Vladimir lancers regiment with a continuation in the Red Army).
He was known as winner of many prizes, including Emperor's prizes, in races.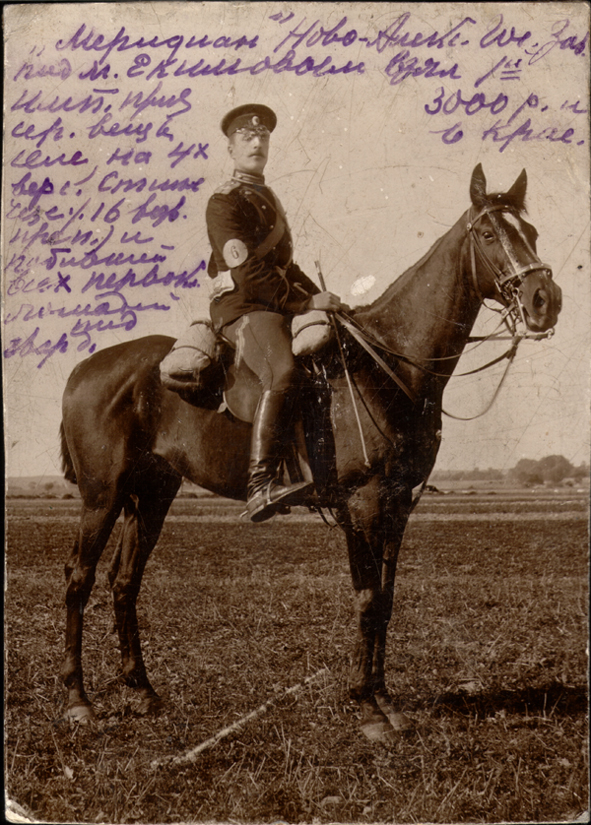 Photo von Michael mit einer Inschrift von seinem Bruder Koka in hohem Alter getan

He was beloved by women - his father even had to rid him (asking to order him off Sct.-Peterbourg) of dangerous competition with Successor Nicolas Gottorp Romanov in a romance with ballerina Matyłda Krzesińska.
His risky jokes reveal his merry and adventurous nature. Once, when Michael and his younger brother Koka, (Konstantin Ekimov, 1873–1956), were waiting for a train at a railway station, there appeared a military general, who began to censure Koka, still a cornet, having not buttoned up collar of the coat. Koka blushed, and turned pale, and shuddered, of course. Their train having started, through the window Michael made a long nose at the general, who had remained on the platform.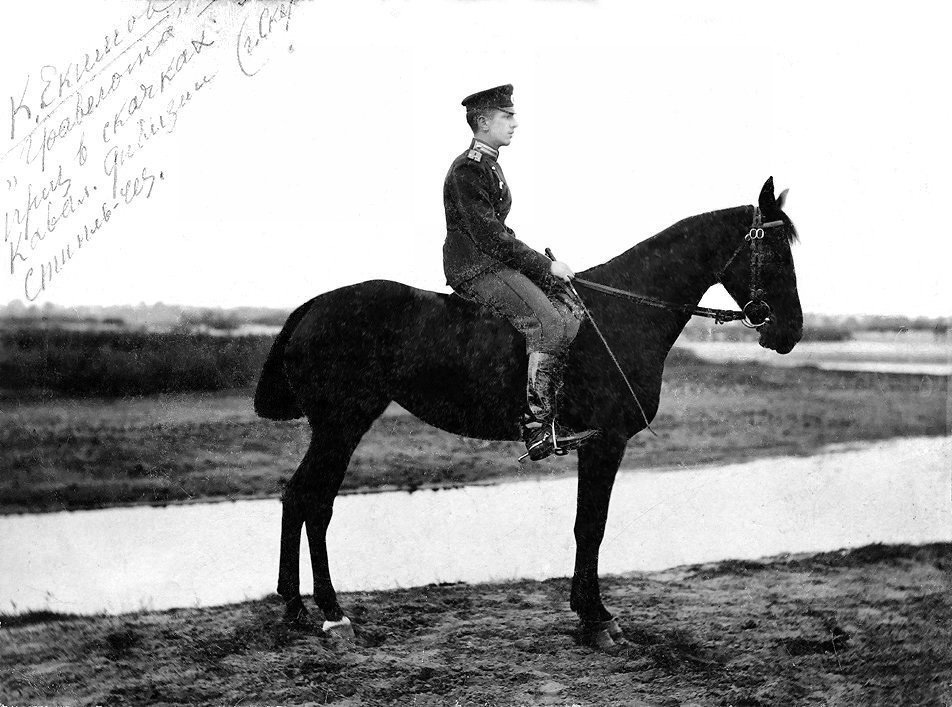 Prize of the 5th Cavalry Division won! Koka at the beginning of his career in Poland (Skierniewice).
Four of five brothers once served in Poland.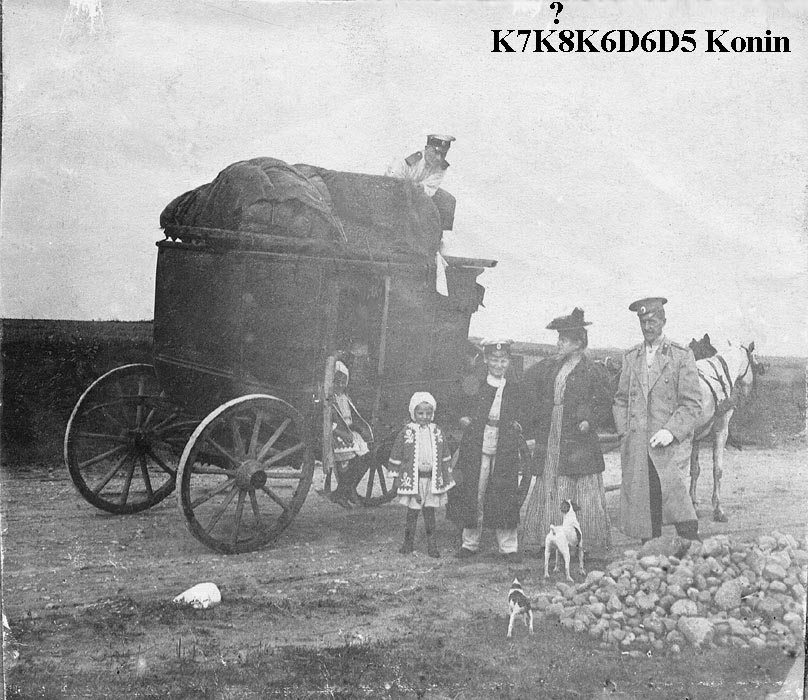 Michael, his wife Aglaida, son Georgy and daughters Vera and Gulya on their way from Konin to Sanct-Peterbourg
When the revolution of 1905 began, Koka had already been at his new service at the Court Stables Department in Sanct-Petersbourg, where he had moved together with his wife Martha, daughter of Karl Henkel, the Lutheran Priest of Konin, and their two small boys.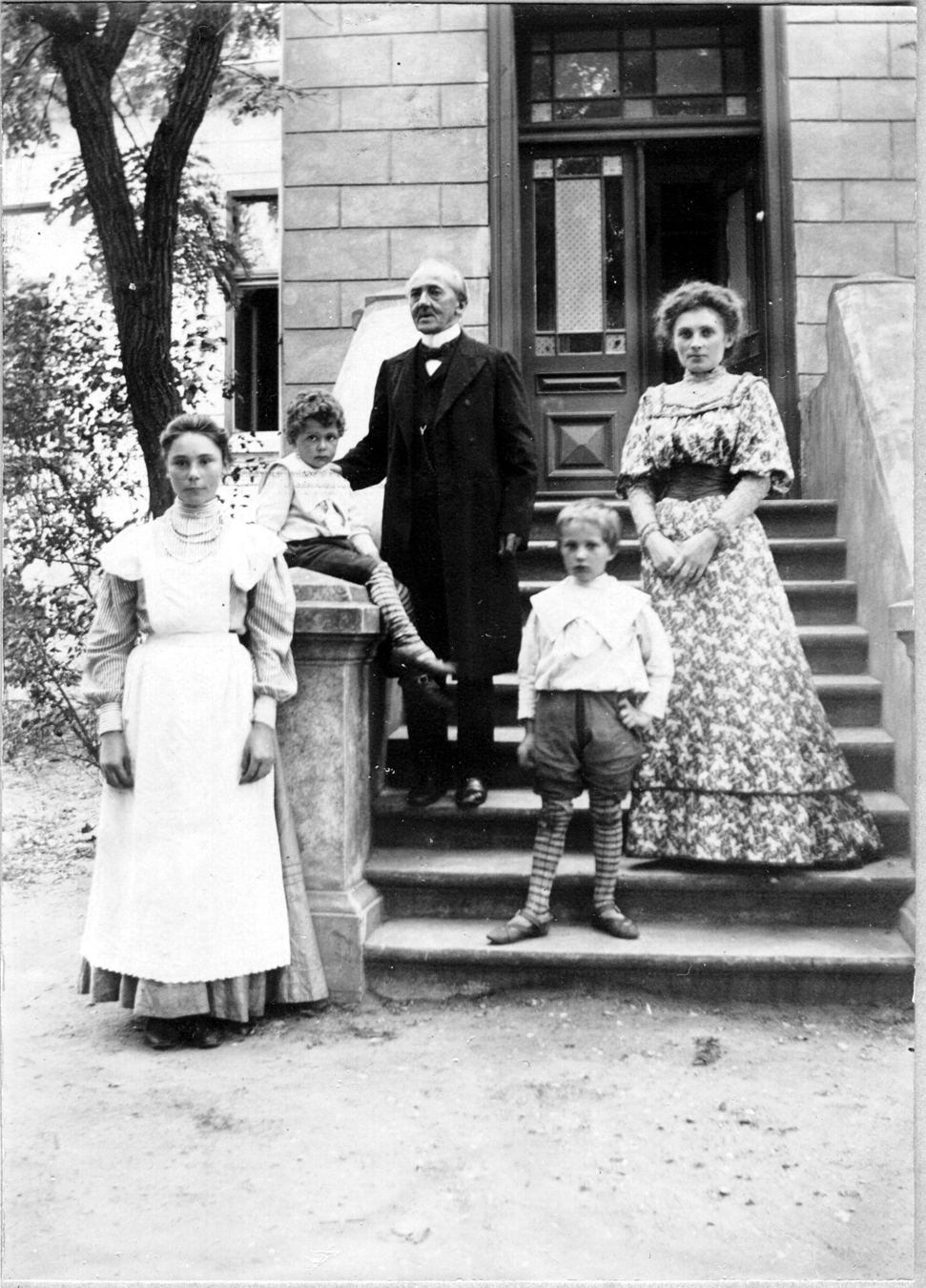 Pastor Karl Henkel, his daughter Martha, grandsons Vladimir und Basily and maid Olga at the entrance of the parsonage. Konin 1910.
In Konin there remained Martha's father Karl, sisters Maria und Magdalene (the third sister, Maria, later also moved to Sanct-Petersbourg, where she married Konstantin Klosse, Violinist des Maria-Theaters; however the youngest brother Karl was engaged in Sanct-Petersburg too).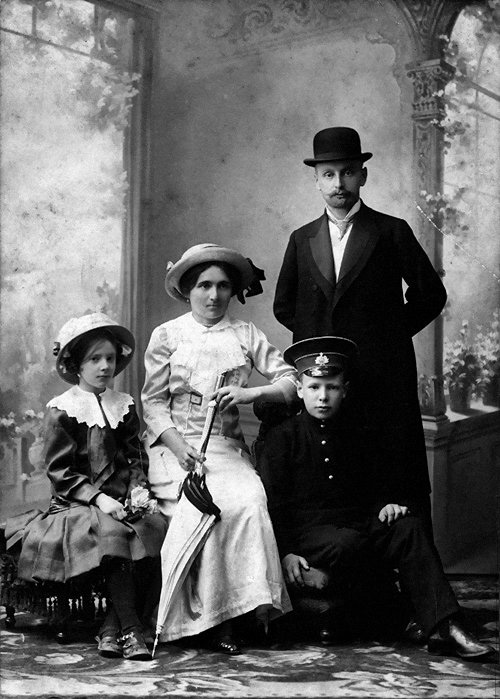 Maria née Henkel with her husband Konstantin Klosse, children Lisa and Nicholas, Novgorod.
In 1905 Maria's and Martha's eldest brother Alexandre was in Sosnowiec, and he wrote to his sister Maria about a revolutionary situation there (...W Sosnowcu wszystkie fabryki stoją...Do Sosnowca przybyło massa wojska...). However it was Michael who almost simultaneously wrote to Koka in Sanct-Peterbourg, that his and their brother Basily's squadrons were sent to Sosnowiec in order to suppress disorders: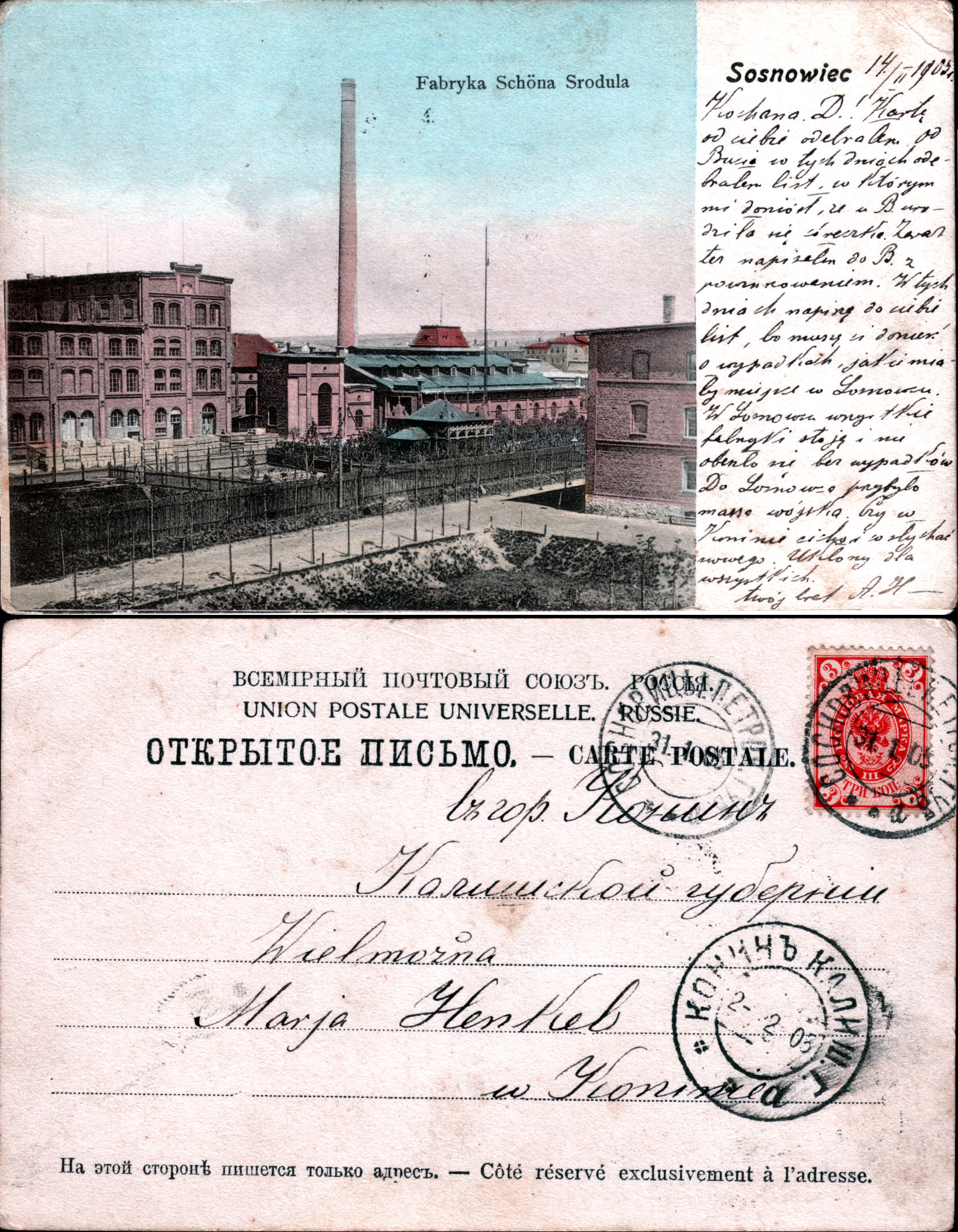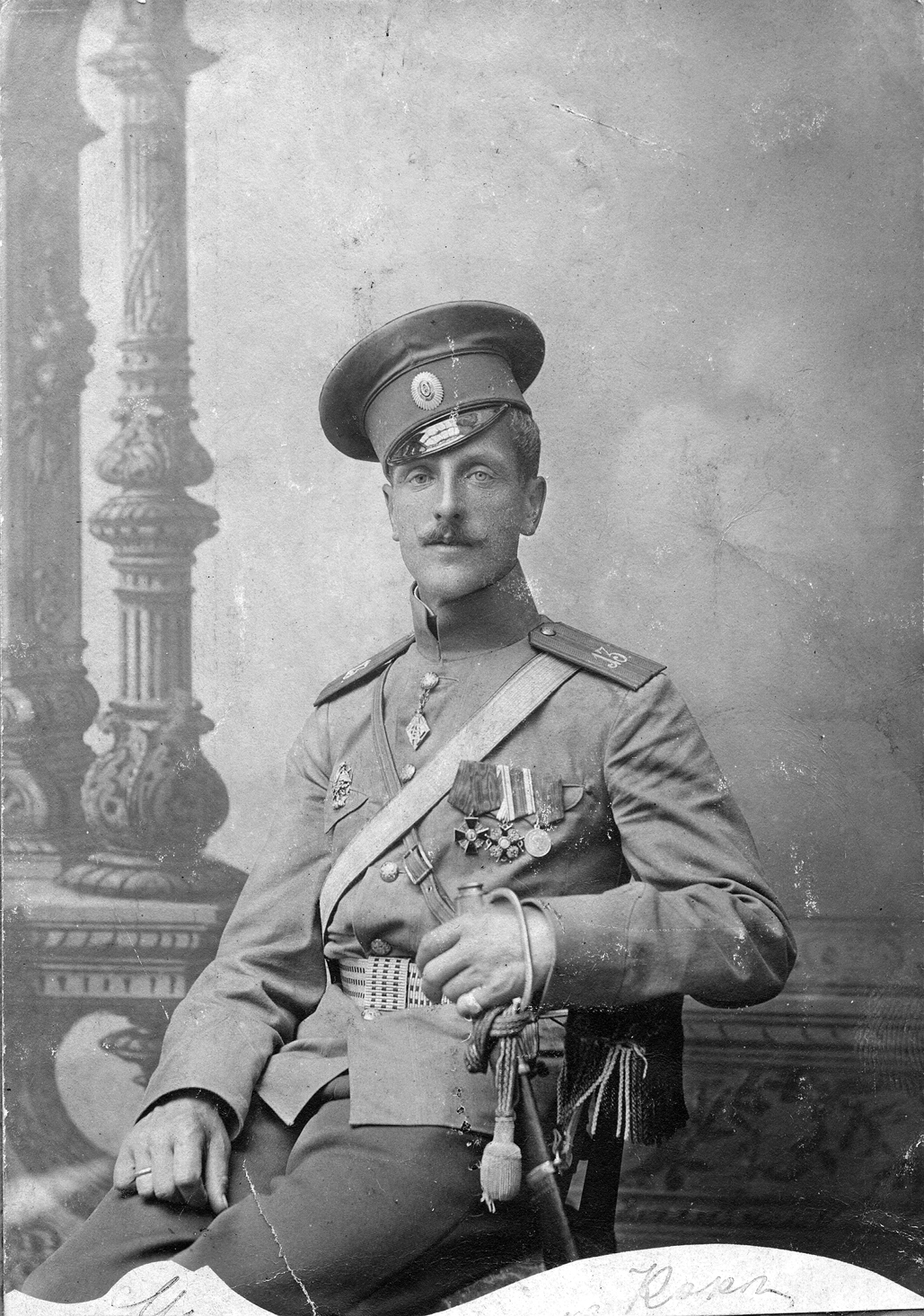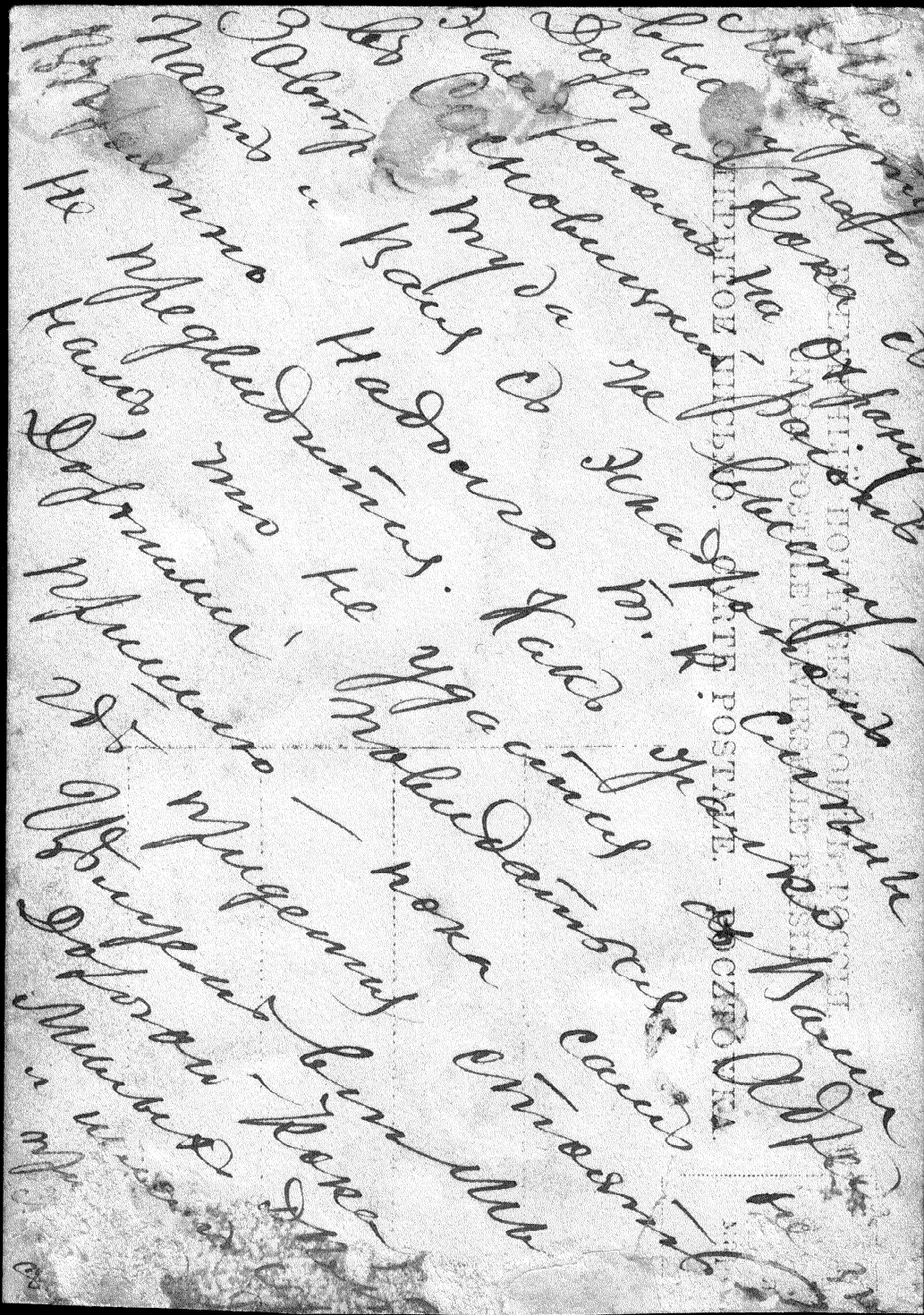 The fate of Alexandre is unknown. Whether he became a victim of political repressions, or whether he joined the Germans during the WWI –even before 1914 there was silence concerning Alexandre in the family of Henkel, so that even no one of his strongly Polonicized nephews and nieces could say anything about him nowadays.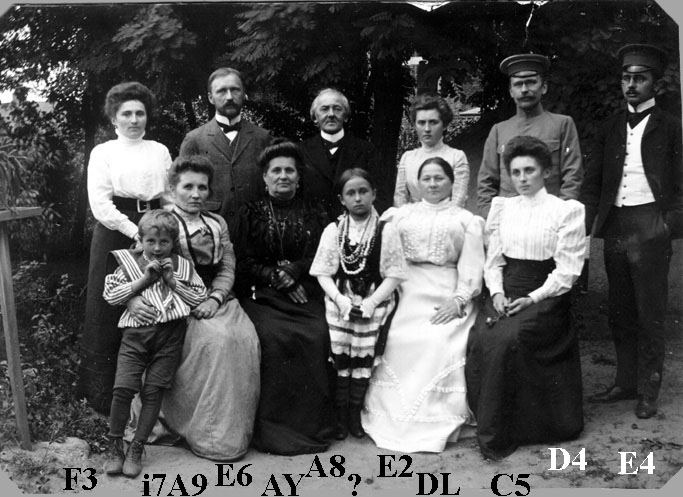 Alexandre stands on the left between Maria and his father Karl (further to the right there are Magdalene, Michael's brother Vasily, Karl Henkel Junior. Pastor's wife Martha sits to the left together with her grandson Basily, daughter Martha sits the last to the right). Konin, Pfarrhaus.
During the World War 1 D5 participated in battles being a lieutenant-colonel in the 13th Vladimir lancers regiment on January 1, 1915, but a colonel on November 19, 1915. The same grade had been recorded on August 1, 1916. Later he commanded the 13th Vladimir lancers regiment for some time at the end of 1916 or somewhere before summer 1917. Carl Gustaf Mannerheim (who himself commanded this regiment from the beginning of 1909 till 1911) writes in his Memoirs (London: Cassell 1953, part 4, p. 83), that after he had received an order by Leutenant General Prince Tumanov, commander of the 13th Cavalry Division, to deffend the town of Krasnik in Galicia from Austrians, Mannerheim's Special Guards Brigade was reinforced by Tumanov's 1st brigade of the 13th Vladimir lancers regiment and 13th Dragoon regiment. Thus D5 fought under the commandment of C.G. Mannerheim at that time.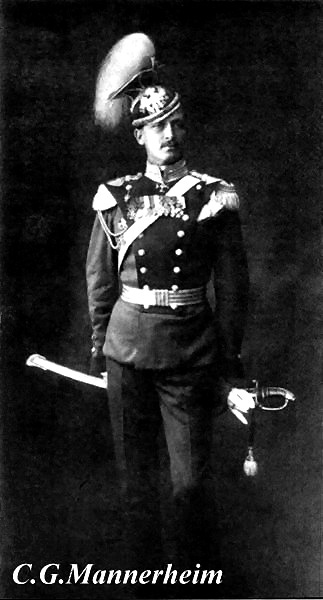 Hero who overcame Asiatic Stalin

1918 Michael joined the Bolsheviks after his son Georgy and began his service in the Red Army. During the following civil war he was wurde er Inspector of Kazan Cavalry District.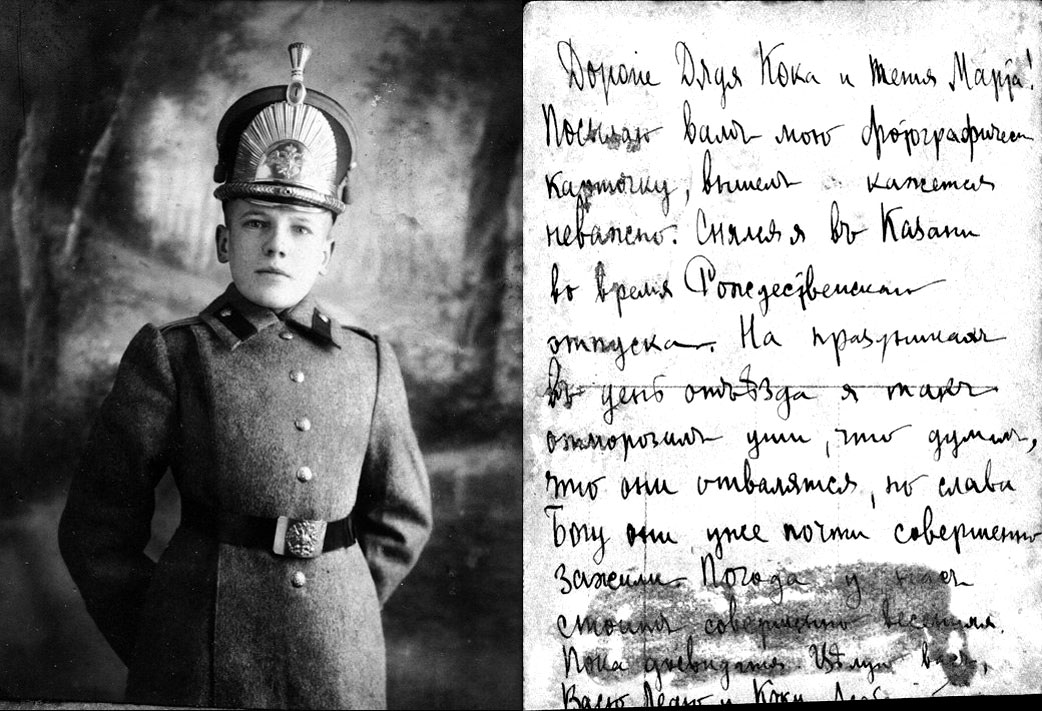 Georgy (Gorya) as a cadet of a yunker school in Kasan (his letter to uncle Koka and aunt Martha)

Michael should have been in Kazan on detached duty already before the war for some time, as seen from his and Aglaida's Christmas card, sent to family Henkel in Konin at the end of 1910: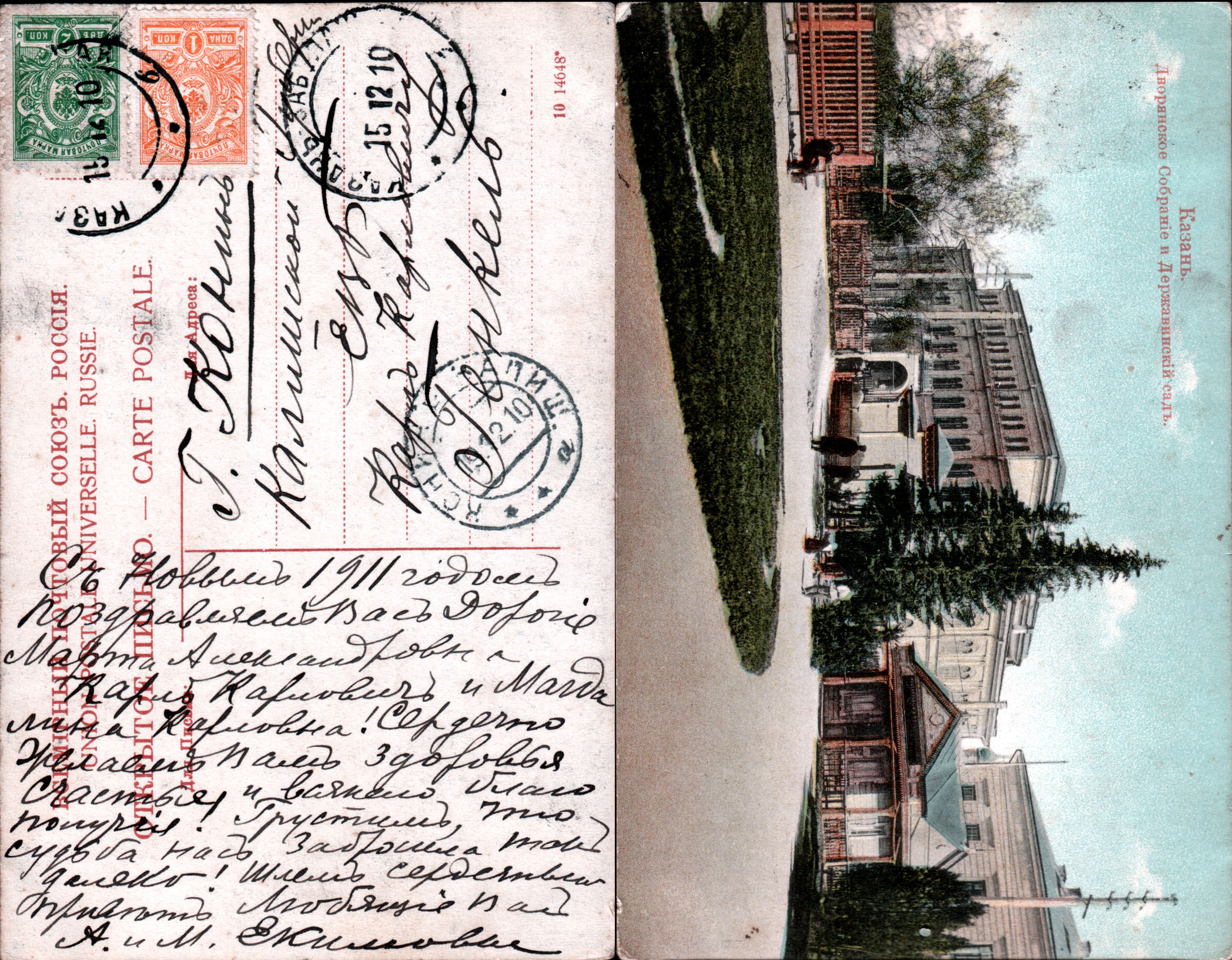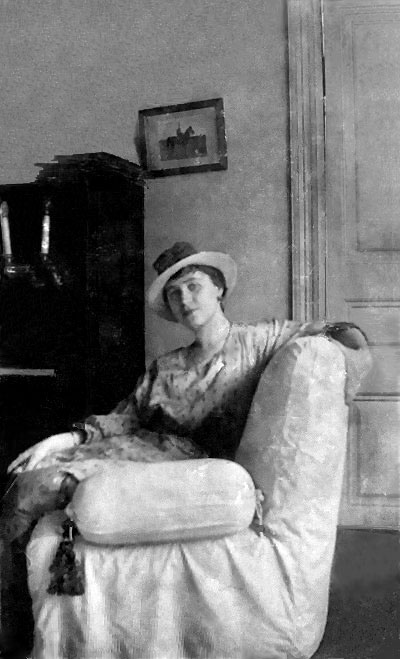 Aglaida after the 19th of November 1915
At the time of the last fight against Wrangel in Crimea, 1920, Georgy commanded a cavalry division at Perekop. He was killed. His remains were brought to his father to Kazan. It was during a ball when Michael was called out to get to know about death of his single son. He fainted. Georgy was buried in Kazan: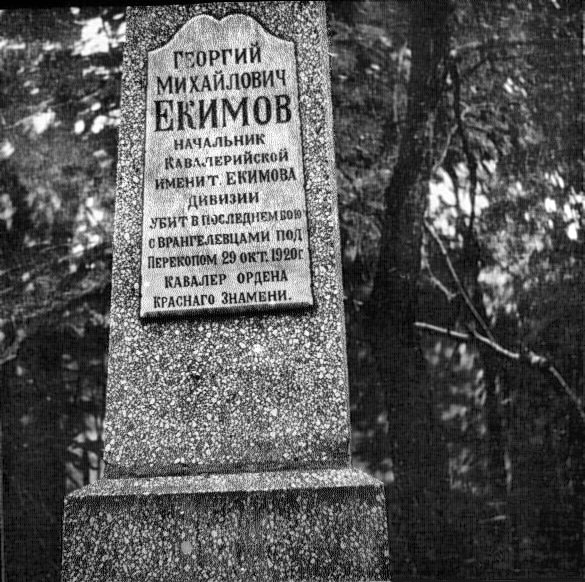 It is paradoxical that K6 contributed to the destruction of Sanct-Peterbourg with his participation in struggle against General Wrangel, who was ideologist of imperial Sanct-Peterbourg. Peter Wrangel (1878-1928) was a true Peterbourgian and one of those rare representatives of the elite for whom Sanct-Peterbourg was not any Russian capital but the Western Metropolis of Russia. The Empire itself was not Russian but Peterbourgian. Russia was only an economic supplement to Sanct-Peterbourg. These were real ideas which Wrangel defended against revolted Russia, an alien race, not any alternative political force (as if Bolshevik). It is clear that representatives of the kin Ekimov were not westernised to such a degree to understand and adopt these ideas. Or was the last decision of Michael to remain in Paulovsk in 1941 (see further) his repentance for his service in Bolshevik army?
Michael retired after the Civil War (this saved him from Stalin's repressions of the thirties) and was offered by Bolshevik authorities to choose for himself and his family any villa he only wanted. He chose former villa of Constantin Rotast (1819-1902) in Paulovsk, imperial residence suburb near Sct.-Peterbourg, in a small estate park against the BIP ('Emperor Paul I's Bastion')-Fortress. He moved there together with his wife Aglaida and his daughters Vera and Gulya (Galina).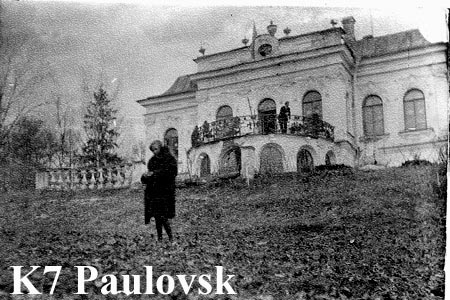 Vera at Rotast's villa in Paulovsk

Love to Paulovsk went back to his father, who occasionally rented summer "datchas" there (at least once, together with his son C4, in the site called Novaya Ves). Later other relatives, similarly to many families and wives of servicemen officials, spent their summers in Paulovsk. Therefore, as well under the Soviets gathered there various realatives of the same old spirit: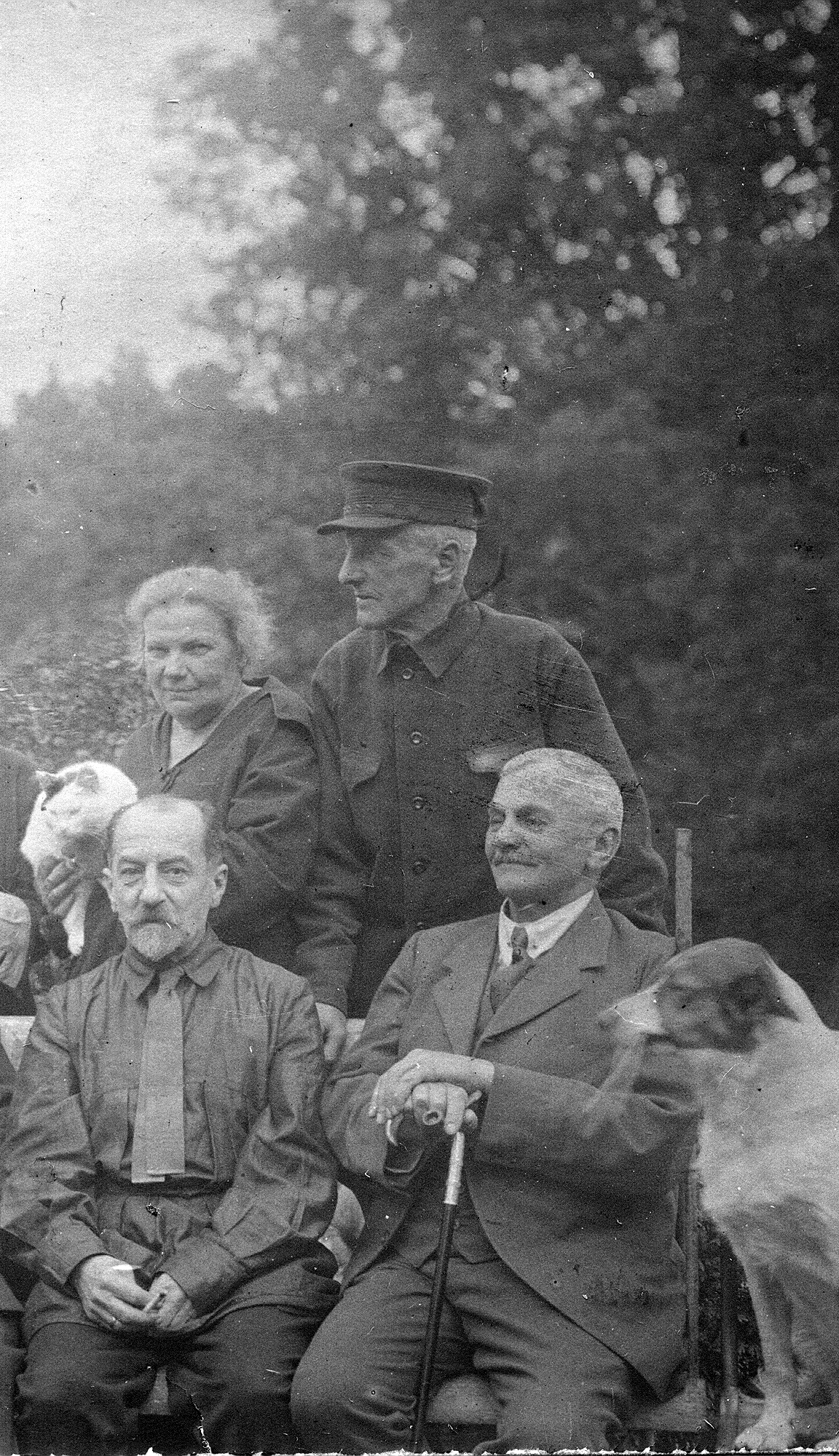 Aged guests: Eugen Visconti and once a cavalry colonel Feodore Ekimov (the eldest among the brothers) are sitting on terrace of the villa. Aglaida and Michael are standing in behind.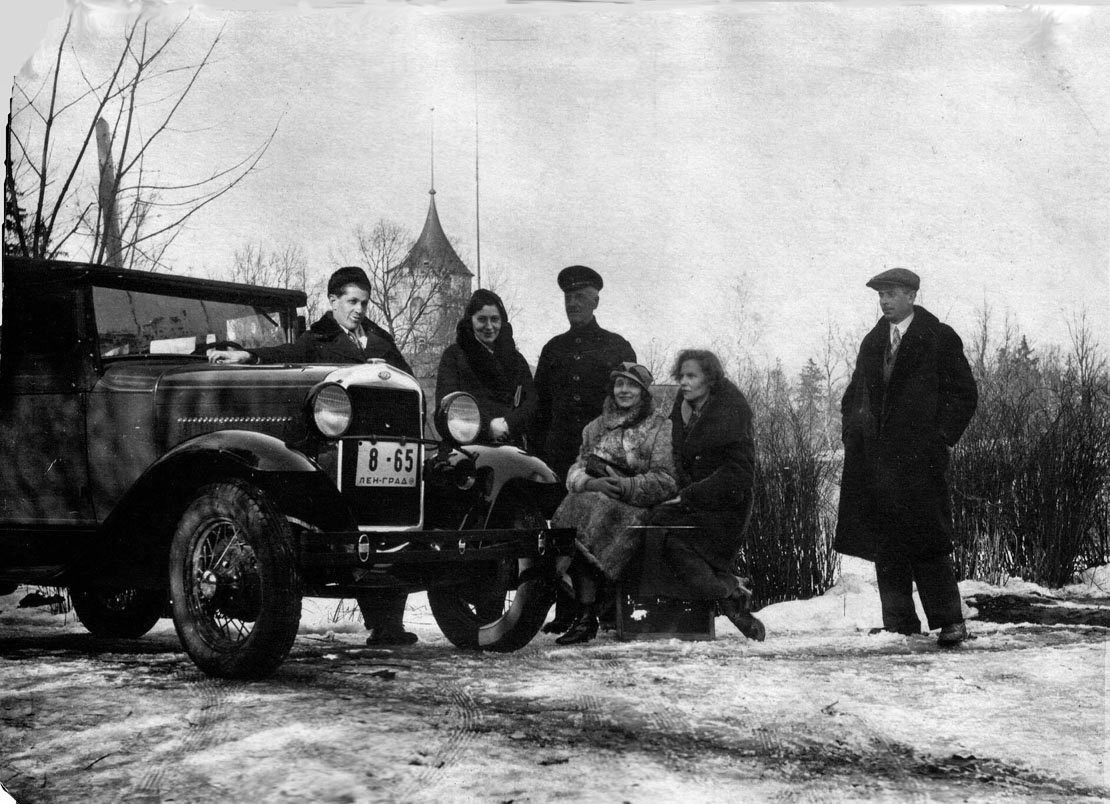 Michael (stands in Centre beside Tamara, granddaughter of his brother Feodore, Vera sitting on the right). Rotast's Villa, the BIP-Fortress is seen at a distance.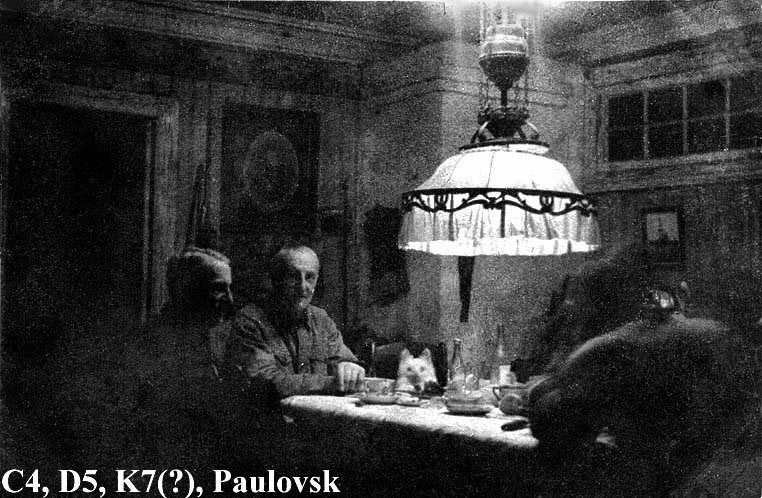 Koka, Michael and Vera in Villa (the 1st floor), 1937.


Michael and Aglaida had also a daughter Maria, the second child after Georgy. Unfortunately, Maria died in childhood after she had drunk a whole bottle of strong medicine, left in an inappropriate place by mistake.

After the family had moved to Paulovsk, Gulia died of tuberculosis. She left a son Leonid (Lyodia) Poznianski, future cellist, further brought up by his aunt Vera: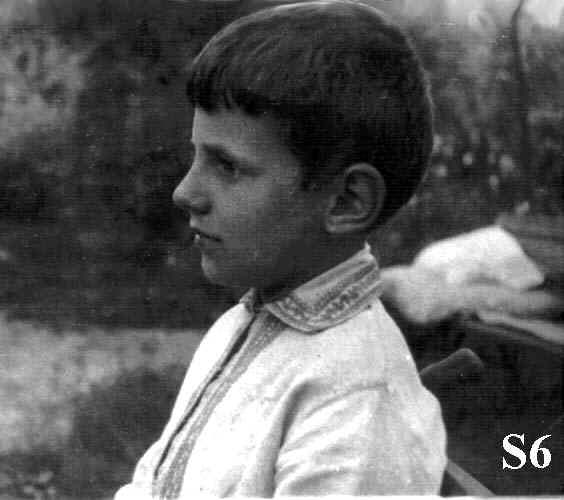 Short after the war Vera for herself died of tuberculosis. Since neither Michael, nor his wife Aglaida lived then more, further fate of Leonid is unknown.
When World War II broke out, Vera fled to the town together with Leonid, but Michael and Aglaida remained in Paulovsk, which was soon occupied by Nazi German troops. The fate of Michael and Aglaida is mysterious. It was narrated, as if headquarters of Italian Sky-Blue Division had been quartered in their house, but recent publications show that the Staff of the division was quartered in another villa. Since Michael did not want to evacuate and was a half German, it is plausible that he deliberately remained in Paulovsk, the Germans nearing, and hoped to find common speech with them. In any case the Russian bolshevism, which he had understood and innerly rejected, was alien to him even culturally and ethnically. This might have been his repentance for his service in the Red Army. Most probably Michael and Aglaida were shot to death as known persons who evaded evacuation, by retreating N.K.V.D.-troops. It seems less probabale they were killed by the Nazis when a known military officer remained to yield himself to them. Even less probabls seems a version the old persons fled away to the West together with the German army (unless they succeeded to get a permission to go to Germany earlier during the occupation). In the best case they could not inform anybody from the West after the war because they knew well what it could mean for the relatives under the bloody communist dictatorship.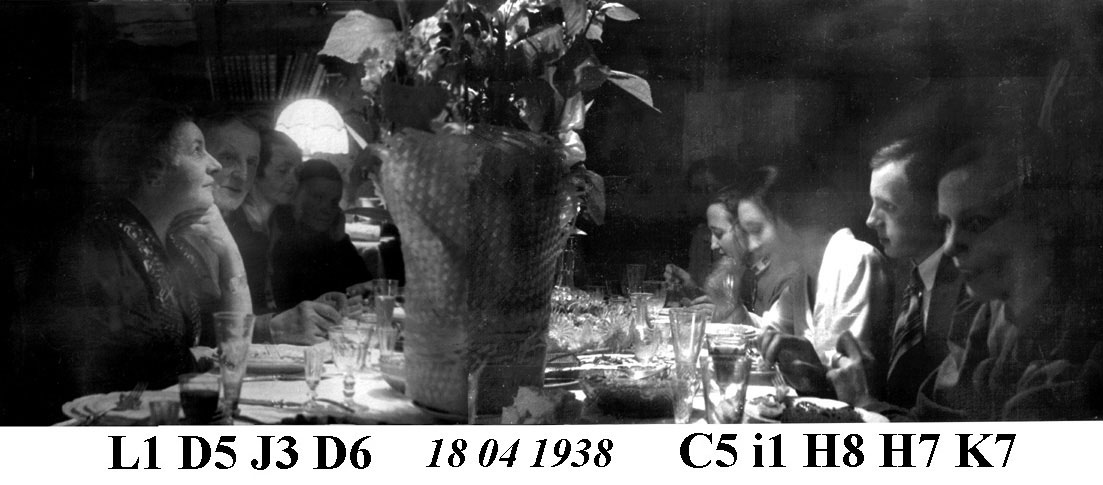 One of the last photos: on the left – Feodore Ekimov's daughter Nina Godlewska, Michael Ekimov, Sanda Visconti, Aglaida Ekimov; on the right – Vera, Konstantin Ekimov Junior, Tatiana Ekimov née Tarasenko, Nedezhda Elb, Martha Ekimov née Henkel. Old Koka's flat in Sanct-Peterbourg, Konstantin's and Tatiana's Ekimov marriage celebration, 1938.